Macallan Whiskey
Macallan Whiskey for sale. The Scottish isles are popularly known as a home for the best Scotch whiskeys in the world. The Macallan Whiskey is one of Scotland's premium scotch whiskeys. The Macallan Distillery was founded by the late Alexander Reid. He was a schoolteacher and farmer at the same time. Using only two pot stills, Reid made his first-ever Macallan whiskey in 1824. Since then, the Macallan Distillery has been producing some of the finest whiskeys in the UK and all over the world.
Choosing the best Macallan scotch can give you a hard time since the brand is known for its slightly high to high-priced whiskeys. But if are really interested in this brand, please continue reading below the latest Macallan whiskey prices in the market. Hope this article can be a great help.
This popular whiskey from Scotland is a single-malt scotch which means this was made from only one distillery. Reid was one of the first distillery owners who recognized the advantages of a single-malt whiskey. According to them, a single malt possesses charisma, sexiness, and a much finer taste. It also has good marketability. Macallan is one of the top producers of single malt whiskey in the global market. Despite the costly price, the demand for a Macallan Whiskey has been increasing through the years. But why is a single bottle of Macallan Whiskey expensive? Continue reading for the answer.
Why is this Whiskey so Expensive?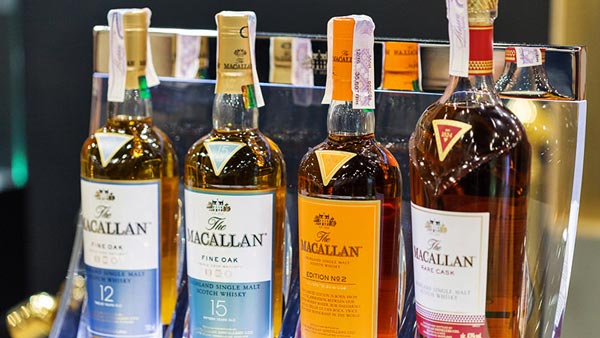 In 2007, a 1926 edition Macallan whiskey was sold at an auction for $54,000 while in 2010, a 64-year-old single malt Macallan whiskey was sold for $460,000. In 2018, a bottle of 60-year-old Macallan Valerio Adami was sold for £848,000 at an auction in Scotland. This product is considered as the world's most expensive whiskey ever sold. The good thing is, all the money generated from these auctions went straight to a reputable charity organization. You may be asking why a bottle of a single Macallan whiskey is kind of costly. Here are the reasons:
A High Cost of Production
The Macallan Distillery is known for using premium ingredients and high-quality casks/barrels. The barley they use costs 45% more than the average. Their Sherry Cask is specially made from conditioned Spanish Oak which costs $1,500-$1800. This is many times higher than the cost of an ex-Bourbon cask which you can purchase for $100-$200 each. Their blends also undergo a series of meticulous processes and trials.
Macallan's Whiskeys Are All-natural
Macallan's whiskeys are all light-colored because they do not use caramel coloring and Mega Purple. This is one of the few whiskey producers that focus on natural whiskey coloring even it means they'd have to use excessive amounts of fresh fruit flavors.
It is a Speyside Whisky
The concept of a Speyside Whiskey is pretty simple. Speyside is a productive part of the Highlands region that is protected by the UK government. Speyside single malt whiskeys such as The Macallan Whisky are produced and distilled in Strathspey, this is a dry, warm region that is believed to have an amazing effect on Scotch whiskeys. Being a Speyside scotch, the Macallan whiskey possesses a sweet, nutty, and fruity taste that is different from the others. The Speyside label is such a big thing in the Scotch industry and can also increase sales of a brand.